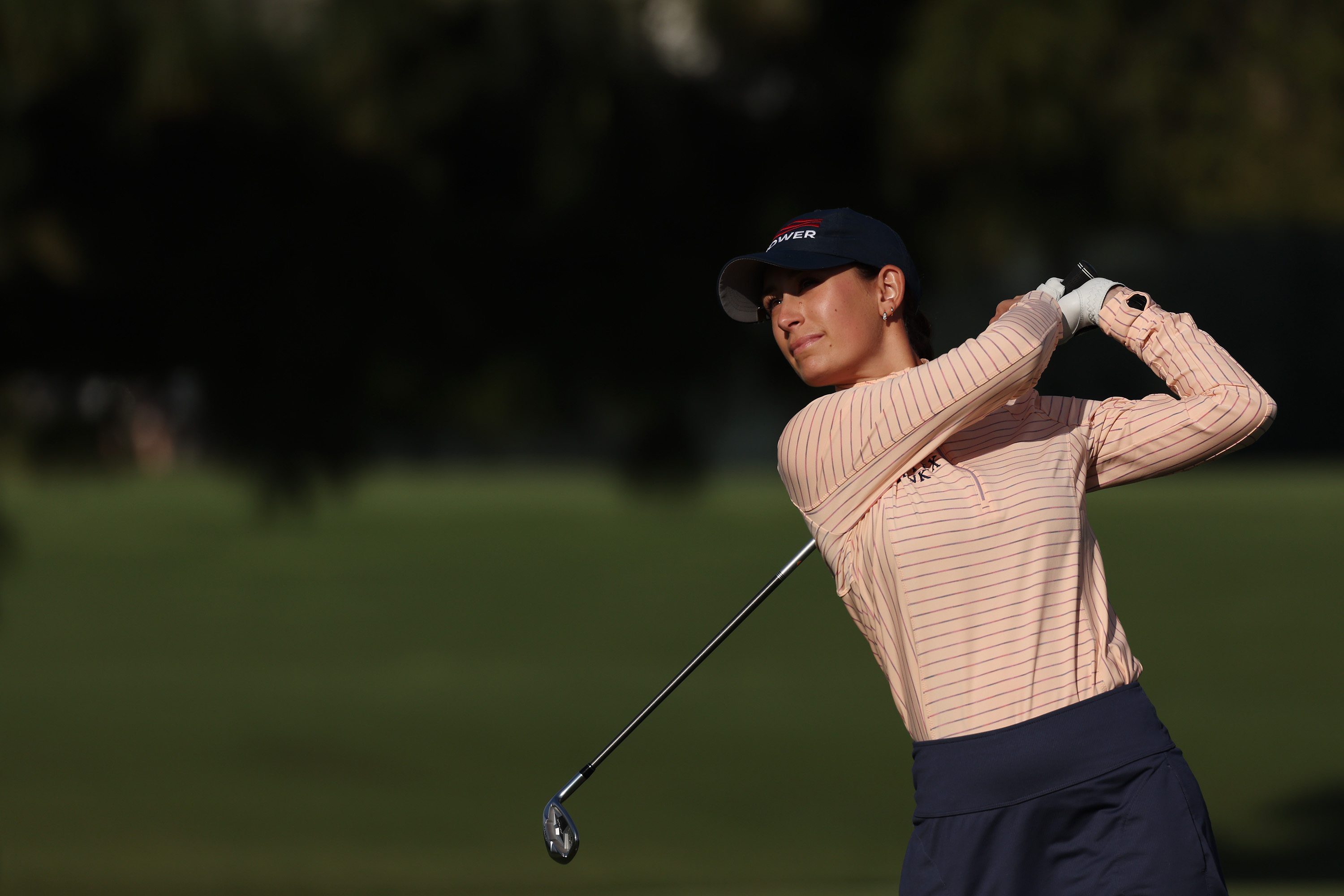 Cheyenne Knight's Putter Propels Her To A Two-Shot Lead Heading Into Sunday's Final Round
Wilshire Country Club's poa annua greens were no match for Cheyenne Knight on moving day at the JM Eagle LA Championship, where Knight's putter propelled her to the top of a jam-packed leaderboard.
Knight carded a bogey-free round of 67 on yet another tough day in Los Angeles, where players continue to be challenged by the club's unpredictable putting surfaces. While others struggled, Knight says she "free-wheeled" her way around Wilshire, where she rolled in a 20-footer for eagle at the par 5 13th hole to take the outright lead and then rolled in a birdie from long range at the par 4 17th hole to extend her lead to two.
"Had a few good, really an opportunity kind of every hole coming in, which is all I can ask for," Knight said about the chances she gave herself on Saturday. "Just trying to hit fairways and greens. Just trying to enjoy it, and just kind of trust all the work I've been putting in and trusting my swing and just kind of let it go out there."
Saturday, Hannah Green made a charge with five birdies in her final six holes to shoot 69 and play her way into the final group at Wilshire Country Club for the second consecutive year.
Green sits two back of Knight at seven under par through 54 holes. The Aussie finished runner-up last season at Wilshire to winner Nasa Hataoka and picked up a third place finish the year prior. Come Sunday, Green will be leaning on her success in L.A. to try and return to the winner's circle for the first time since 2019.
"I got to play in the last group last year with Nasa, and I was trying to chase her all day, but she had too much of a lead," Green said about her experience last year. "I think it helps knowing what the course will be like late in the afternoon. The greens will get a little bit slower, a little bit bumpier. Hopefully that experience from the last couple years helps me to try and get out on top tomorrow."
Rookie Hae Ran Ryu is tied with Green through 54-holes after shooting a four under par 67. Ryu is making just her fifth start since joining the LPGA Tour in 2023, but she's already experienced the pressure of playing a final round Sunday with a chance to win. In her debut as a member of the LPGA Tour at the LPGA Drive On Championship in Phoenix, Ryu played in the final group and ultimately finished T7 for the week in what was a learning experience for the rookie.
"In Arizona I was just playing so defensive. This week, I have solid iron shots this week, so I'm going to play more aggressive," Ryu said about her plan for Sunday.
Second round leader Aditi Ashok didn't have her best on day three as her ball striking and putting escaped her. Ashok needed 32 putts en route to a round of one over par 72 and dropped back to five under par to sit four strokes back of the lead.
"For me looking at my game today, I know I didn't hit it super close, so I know that's what I have to do tomorrow," said Ashok. "Maybe of the three days I feel like today was the day I didn't hit it really good, so maybe tomorrow is going to be back to normal hopefully."
Saturday, Gemma Dryburgh matched Xiyu Lin for the low round of the day with a five under par 66 on moving day. Dryburgh sat just one off the lead on day one but a round of 76 on day two saw the Scot tumble outside the top 20 on the leaderboard as she played more defensively. Dryburgh set out Saturday to get back to the aggressive play she displayed in round one and to get back on top of the leaderboard.
"I played with a bit of fear yesterday," Dryburgh explained after her bounce back on Saturday. "Just kind of trying not to make mistakes instead of the first day I just kind of went out and picked a target and went for it, which I did again today, so that helped a lot, and hopefully I can just do that again tomorrow."
Dryburgh sits solo fourth at six under par. Lin, who also shot 66 on moving day, is tied for fifth with Ashok at five under par.
A pack of players sit at four under par with a total of 10 players within five strokes of the lead heading into Sunday's final round.
World No. 1 Nelly Korda began the third round four strokes off the pace, but she failed to find a spark for the third consecutive day and recorded a one-under par 70 to drop six back of the lead.
Back to News