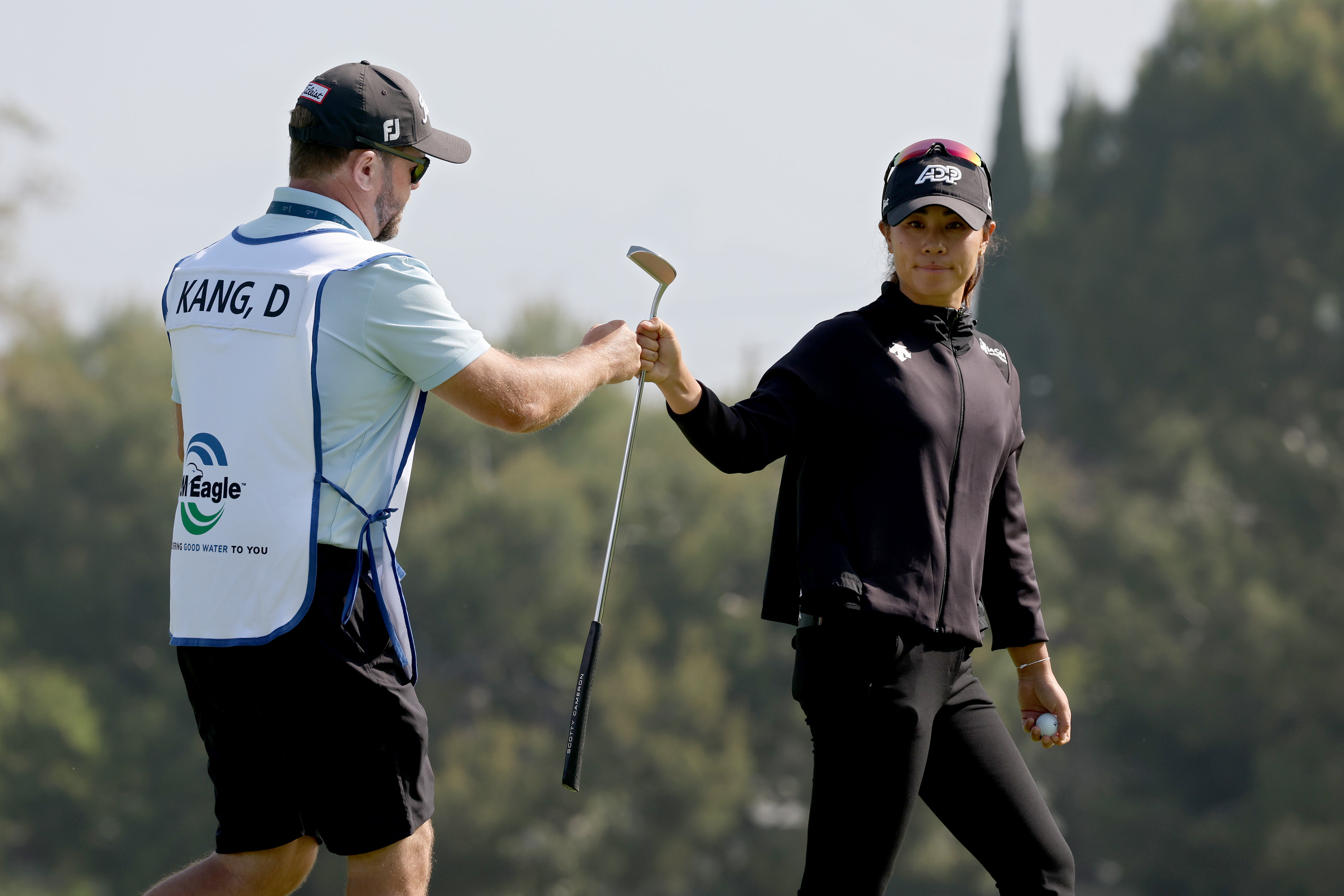 Five Things to Know From Round One
By Amy Rogers
Linnea Johansson leads in Hollywood
Linnea Johansson's talents shined bright on day one of the JM Eagle LA Championship presented by Plastpro. The Swede carded her low round of the year, opening with a bogey-free 64 to take the lead at Wilshire Country Club. She holds a narrow one stroke lead ahead of Minjee Lee and Genna Dryburgh.
"Played fearless golf today and really went after a lot of pins and managed to hit them very close and roll in the putts," said Johansson, who needed just 26 putts on Thursday. "I actually managed to roll in the longer ones more than the shorter ones. It was just a great day all-around."
Major Champions lurk on day one
A pack of major winners are lurking after day one of the JM Eagle LA Championship presented by Plastpro. Minjee Lee, a two-time major winner, sits just one back with an opening round of 65 on a course where the Aussie has had success before as a winner in 2019.
"It kind of reminds me a little bit of home, just the look of the bunkers and just how they're situated on each hole. Yeah, it just kind of gives me good vibes," Lee said Thursday. "I'm really just focusing on my processes right now. I had a great day today, but I'm going to stick to what I know and do best and do everything that I can in my control. That will be my goal."
Lee is one of six major champions inside the top 20 in addition to Danielle Kang, Pernilla Lindberg, Cristie Kerr, Hannah Green and Nelly Korda.
Nelly Korda returns to world No. 1
Nelly Korda headlines the field at the JM Eagle LA Championship, both as the top-ranked player in the field and in the world. Monday, Korda returned to the top of the Rolex Rankings following her third place finish at the first major of the season, the Chevron Championship. Korda has held the top spot on three prior occasions. Korda most recently overtook Lydia Ko, who held the No. 1 spot for 21 weeks. Ko missed the cut at last week's major championship and is not in the field this week in Los Angeles. Thursday, Korda carded an opening round of 69 and sits five strokes back of the lead.
Cristie Kerr contends
There is no quit in Cristie Kerr, who after more than two decades competing on the LPGA Tour has put herself in contention through day one of the JM Eagle LA Championship presented by Plastpro. Kerr, who owns 20 wins on the LPGA Tour, came into the season determined "to keep trying in this game" and has rededicated herself. In March, the two-time major champion posted on Instagram, "Getting there...slowly, but surely. I will prevail this year. I will not let anything stop me from improving. Sometimes you must begin again. Thank you to all my sponsors for believing in this grind."
Kerr comes into the JM Eagle LA Championship with a new caddie, a new driver and a new mental outlook. The combination resulted in an opening round of 67 at Wilshire Country Club for Kerr's lowest round on the LPGA Tour since October 2022.
"I just feel like your mind should be the strongest part of your game, and today it was the difference between keeping me in it and not because I was very determined toay," Kerr said Thursday. "That fire, that determination, that's also been one of my goals to kind of get back, and I did that really well today."
Kerr recorded six birdies and two bogeys on day one and needed just 26 putts to climb inside the top 10 on the leaderboard.
Danielle Kang returns to her roots
Danielle Kang grew up in the Los Angeles area and attended Westlake High School, about an hour drive from Wilshire Country Club. This week, she's loved getting to return home, to visit her favorite restaurants, reconnect with friends with whom she's sharing a home with this week, and to return to her golf roots.
Earlier this week, Kang went back to her old stomping grounds to hit balls at the driving range at Westlake Golf Course. She called the old familiar spot "magical" and asked her best friend and husband to join her in hitting balls until she felt like she was hitting th ball better. They obliged and spent time with Kang who hit balls under the big lights.
"Coming here, a lot of my friends are kind of like my family. I know people say that a lot, but I keep in touch with them. I don't get to see them very often. We go months at a time where I don't get to see them," Kang said about her return this week to L.A. "I have a couple of my friends coming out. They're working today but they'll be out here tomorrow."
Kang started her day on the back nine and bounced back from an opending bogey with four consecutive birdies en route to a round of 66.
Back to News