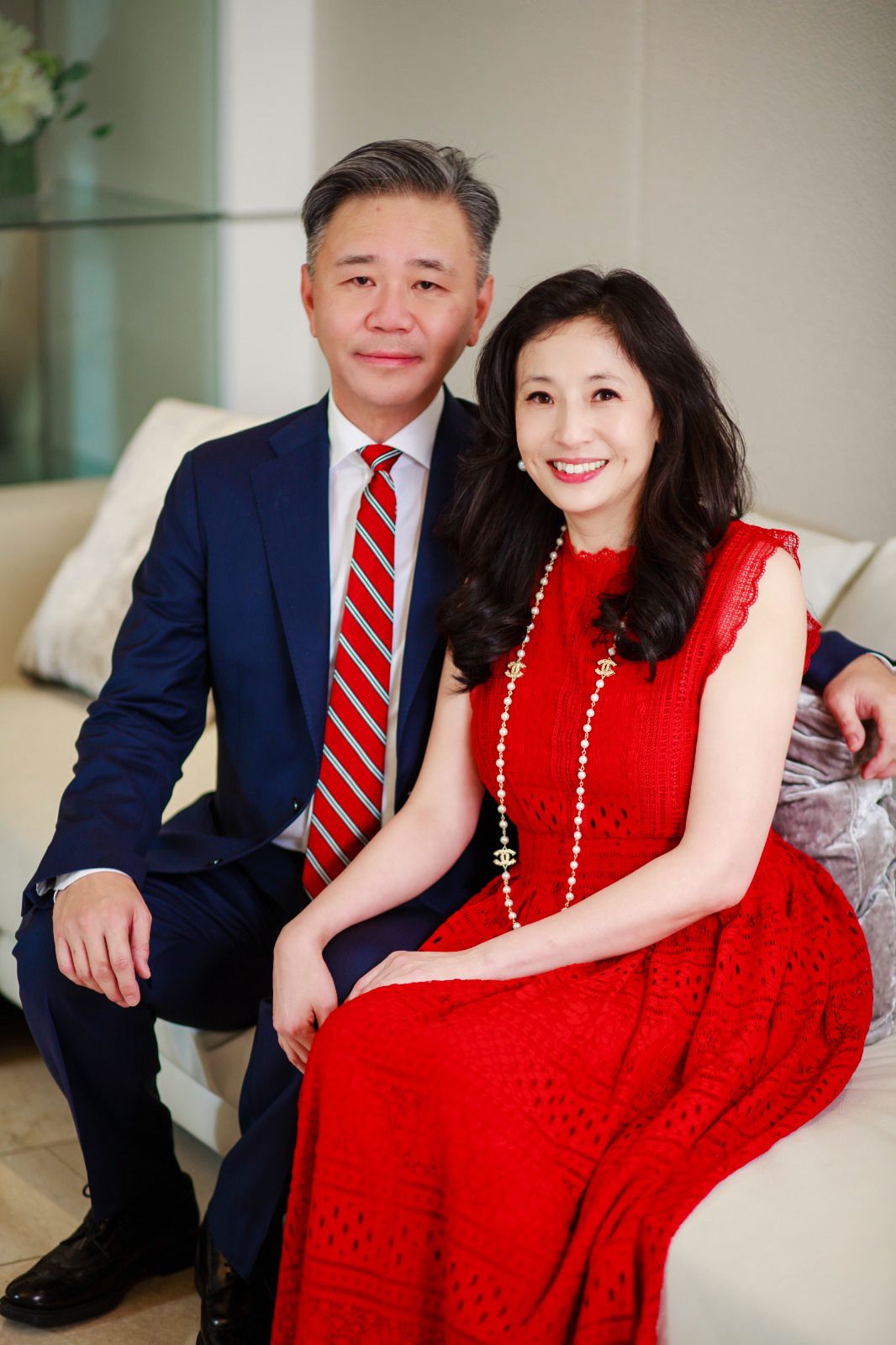 Walter and Shirley Wang Raising the Bar on the LPGA Tour
By Amy Rogers
Walter Wang knows how to throw a party.
Just ask Nelly Korda, who was one of the more than 100 players who turned out for the pro-am party at Wilshire Country Club ahead of the inaugural JM Eagle LA Championship presented by Plastpro. The world No. 1 will typically spend about an hour at pre-tournament functions, but she spent more than two hours having fun at Wang's party.
"It was great. I was very happy hearing that," said Wang, the Chairman and CEO of JM Eagle, who played with Korda during Wednesday's pro-am. "When people say they're having fun, it's a good time, it just brings joy to your heart."
The pro-am party had the usual offerings that one would expect at a gathering of this type with food, cocktails, and lots of meets and greets. But then, there were the prizes.
There were 54 prizes worth more than $71,000 dolled out to players who attended the party. The goodies ranged from airline flight credits, to Amazon gift certificates, to American Express gift cards. Each worth thousands of dollars. And the giveaways are just one of the extra steps that Wang has taken to host a next-level LPGA Tour event.
In partnership with his wife, Shirley, and her company Plastpro, which manufactures fiberglass doors, the Wangs have joined forces to support the LPGA. They're hopeful that these extra measures will not only entice the best players in the world to play in L.A., but that their championship will become a model for other tournaments and sponsors.
"A lot of companies talk about, 'well how many eyeballs?' How many eyeballs represent how much sponsorship?" Wang said. "I want to do something different. I want to, hopefully, lead other companies to put more money into the LPGA and invest into the players."
Wang began by doubling the purse from what the prior tournament at Wilshire Country Club had offered to players, boosting the prize money from $1.5 to $3 million for 2023. And don't expect it to stop there. Wang says he and his team are seriously considering an increase for next year. It will likely be one of many changes coming to the JM Eagle LA Championship, which Wang believes needs to continue to evolve.
"Every year we do this we have to be better than the last year, right?" Wang said when asked about future plans for the championship. "It can't be the same ole same ole, stay in the status quo. I don't believe in that. I think if we stay in the status quo in a business, or as a human being, we stay in the status quo we go backwards."
If it's not clear by now it should be that Wang is not the typical CEO.

When I spoke with Wang on Friday afternoon he was back at his office at JM Eagle, which is based in Los Angeles. He says it is the first time all week that he has been at work because he's been on-site at Wilshire Country Club. "I have to go back and work to pay for this thing," he jokes.
This CEO is different. He's easy going, affable, easy to talk to. His answers are candid and genuine and aren't coming from a prepared statement. Wang is a man who genuinely cares about the LPGA. And it speaks to his nature that he'd want to help defer players' travel expenses by offering them gift cards. Wang makes his living manufacturing plastic pipelines to ensure people get clean water in their homes.
"The essence of life is what do we need? We need air to breathe, right? Everybody needs air. And second we need water. Water is the essence of life," Wang said about his work. "It's a lot that JM wants to do in one municipality at a time to minimize water secondary pollution and to bring good, clean water to every household."
Wang hopes to use his platform at JM Eagle to further elevate women's golf, to increase its exposure, and to ensure that players are able to provide for themselves and their families.
It's a different idea for a different type of man, who is approaching his partnership with the LPGA not as a temporary investment, but as a long-term commitment. Wang signed an initial five-year agreement, which is already two years longer than the typical LPGA tournament partnership and says he is committed to supporting women's golf for the long haul.
"The ladies work just as hard as the men. They're just as talented. Why is the purse average one-fifth of the men?" Wang said, comparing the LPGA and PGA Tours. "And for me alone, I can't do it all right? I'm just one, two or three companies, but there are a lot of companies out there that sponsor PGA and LPGA, right? I think this investment should be for the long run, not the short term. These are long term gains instead of short term gains."
And what are the gains for Wang? They're certainly not financial. He says he's not making a penny from this week's championship. And he doesn't seem to mind. Wang is in it for the greater good. The joy of seeing players, his friends, and customers, having a good time and enjoying themselves at his championship.
"It's a privilege and a blessing to be able to sponsor this event," Wang said. "I didn't know what to expect, really. It's much more rewarding than I ever thought."
Word of the pro-am party, and those prizes, will no doubt spread amongst the players. Those who skipped the tour stop in L.A. or passed on attending Tuesday's pro-am party will no doubt be anxious next year to circle Wang's events on the schedule. They'll be curious to check out this new tournament and its prizes. And, to learn more about the man behind it all. The man who not only knows how to throw a party, but is well on his way to hosting one of the best stops on the LPGA Tour.
Back to News