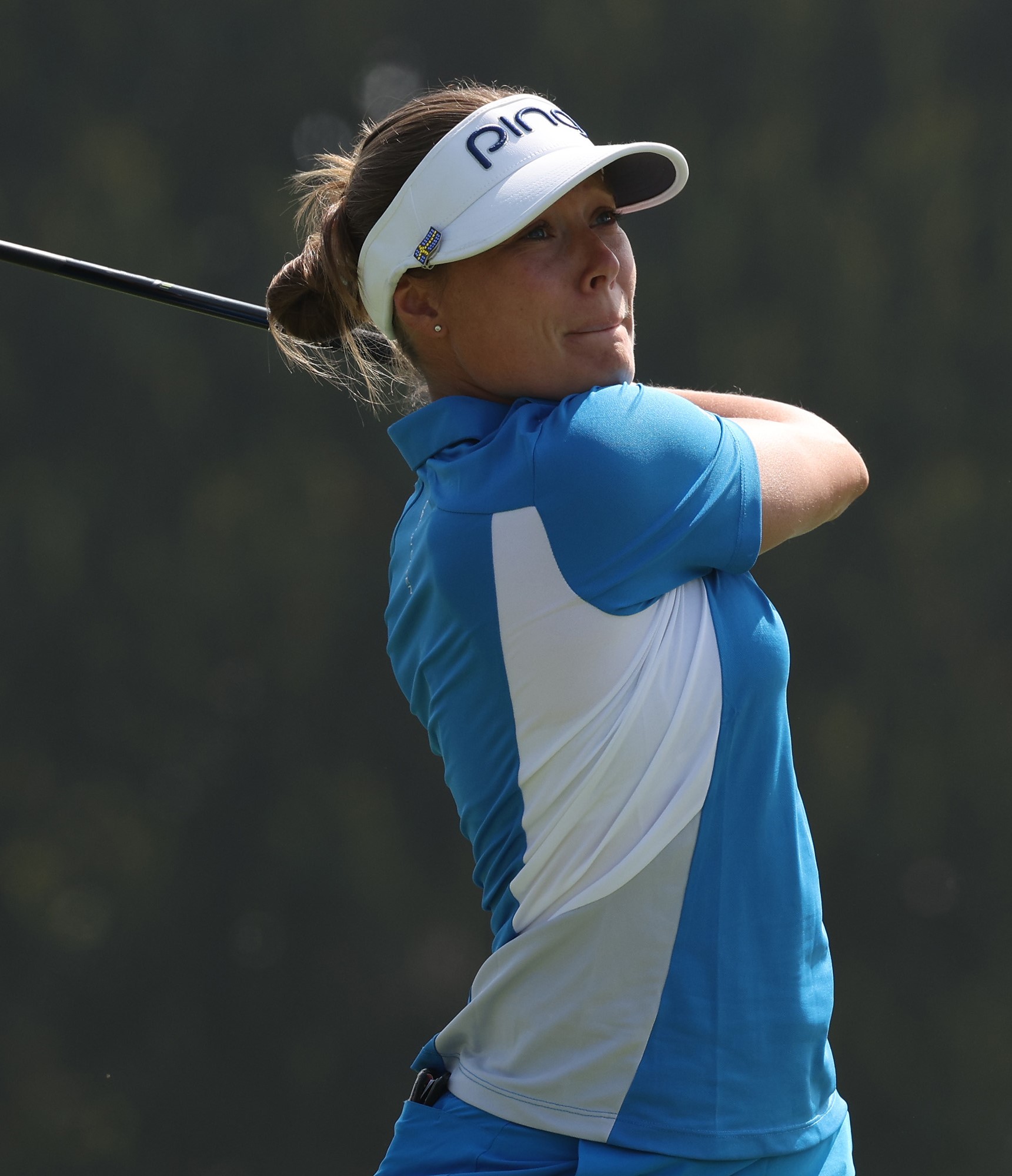 Linnea Johansson the Hollywood Star on Thursday at the JM Eagle LA Championship
By Amy Rogers
Linnea Johansson was the star on day one of the JM Eagle LA Championship presented by Plastpro. The Swede carded a flawless, bogey free 64 in the shadow of the Hollywood sign to hold the outright lead through round one of the inaugural event at Wilshire Country Club in Los Angeles, California.
"Played fearless golf today and really went after a lot of pins and managed to hit them very close and roll in the putts," Johansson said afer her round on Thursday. "I actually managed to roll in the longer ones more than the shorter ones. It was just a great day all-around."
Johansson began her day on the back nine and wasted no time firing at flags. She birdied her first hole of the day, the par 4 10th hole and added three more birdies over the next five holes to go out in 32. Thursday, Johansson didn't miss a single fairway and needed just 26 putts.
"I've been working a lot on my swing and trying to get a little bit more consistent ball flight, and I think that was very helpful today because I was able to attack a little bit more of the pins out there and give myself chances," Johansson said. "The greens can be tricky, a lot going on, but I managed to read them and match the speed toay, and they dropped for me."
Johansson, who joined the LPGA Tour in 2020 but was forced to return to Q-Series last season, regained full status for the 2023 LPGA Tour season. The Oklahoma State alumnae is making just her third start of the season in Los Angeles after missing the cut in her first two starts of the year and is looking to record her first career top 10.
Australia's Minjee Lee and Scotland's Gemma Dryburgh sit one back of the lead through round one with rounds of 65. India's Aditi Ashok and Americans Caroline Inglis and Danielle Kang sit two strokes back through day one with opening rounds of 66.
"I love this golf course. My caddie absolutely loves this golf course," Kang said after her round Thursday. "We know exactly what we're getting. I'm going to try and stay up there constantly, and that's kind of what I want to do and not get carrried away so much with being impatient and attacking certain pins, and that's what this golf course does."
Nelly Korda, who returned to No. 1 in the Rolex Rankings following her third place finish at the Chevron Championship last week, shot an opening round of 69. Korda missed just one fairway on Thursday and said she remarked to her caddie during the round that her ball striking was the best it has been in recent memory. However, the putting woes that plagued her last week continued to burden Korda on Thursday as she needed 30 putts in round one.
"Obviously, I want to perform the best that I can, but if I'm seeing it continuously get better, I think that's the main goal where I'm comfortable with competition during rounds," Korda said Thursday. "I think I hit it pretty solid today, and just kind of didn't get a couple of the putts in."
World No. 3 Jin Young Ko carded an opening round of one over par 72.
Wilshire Country Club has been home to the LPGA Tour since 2018, ushering in the Tour's return to the Los Angeles area for the first time in more than a decade. The year's JM Eagle LA Championship presented by Plastpro is the first edition of the event. JM Eagle doubled the purse from last year's event at Wilshire, increasing the total prize money from $1.5 to $3 million in 2023.
Back to News