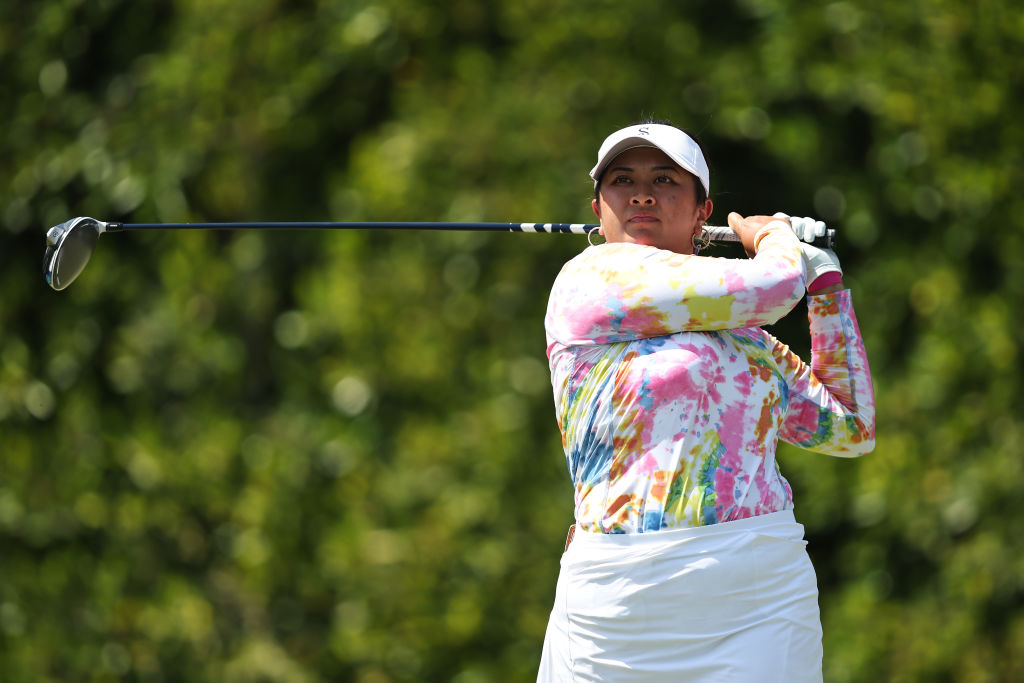 World No. 1 Nelly Korda, No. 3 Jin Young Ko and No. 4 Lilia Vu Headline Elite International Field
Eighteen of the Top 21-Ranked Players in the World Entered into the Championship
Mi Hyang Lee and Allison Emrey Round out JM Eagle LA Championship presented by Plastpro Field via Monday Qualifier
144-Player Field to Compete for a $3 Million Tournament Purse at Wilshire Country Club in Los Angeles April 27-30, one of the Largest Prize Funds on the LPGA Tour
Tickets on Sale at www.jmeaglelachampionship.com
LOS ANGELES, April 26, 2023 – The tournament field for the 2023 JM Eagle LA Championship presented by Plastpro was finalized on Monday following an 18-hole qualifier at The Oaks Club at Valencia. Mi Hyang Lee (3-under 69) and Allison Emrey (2-under 70) captured the final two spots to gain entry into the championship, taking place at Wilshire Country Club in Los Angeles, Thursday-Sunday, April 27-30.
Lee and Emrey will join a 144-player field that features one of the strongest fields of the 2023 LPGA Tour season. Eight of the top-10 and 18 of the top-21 players in the Rolex Women's World Golf Rankings are committed to the championship, including World No. 1 Nelly Korda, No. 3 Jin Young Ko, No. 4 and Chevron Championship winner Lilia Vu, No. 5 Atthaya Thitikul, No. 6 Minjee Lee, No. 8 Brooke Henderson, No. 9 Celine Boutier, No. 10 Georgia Hall, No. 11 Hyo Joo Kim, No 13 Nasa Hataoka, No. 14 Danielle Kang, No. 15 Leona Maguire, No. 16 Xiyu Lin, No. 17 Charley Hull, No. 18 Ashleigh Buhai, No. 19 Ayaka Furue, No. 20 Jennifer Kupcho and No. 21 Allisen Corpuz.
An inaugural event on the LPGA Tour, the JM Eagle LA Championship presented by Plastpro will feature a $3 million tournament purse, one of the largest prize funds on the LPGA Tour outside of major championships.
The JM Eagle LA Championship also will feature a number of players with Southern California ties, including:
UCLA

: Bronte Law, Alison Lee, Ryann O'Toole, Patty Tavatanakit, Mariajo Uribe, Lilia Vu

USC

: Jennifer Chang, Allisen Corpuz, Muni He, Annie Park, Lizette Salas, Jennifer Song, Gabriella Then

Pepperdine

: Danielle Kang
The tournament field will feature 24 major champions, eight former World No. 1 players and four past winners at Wilshire Country Club, including Moriya Jutanugarn, Minjee Lee, Brooke Henderson and Nasa Hataoka.
Previously announced sponsor exemptions competing in the JM Eagle LA Championship include Natalie Gulbis, Muni He and Heather Lin.
JM Eagle is the world's largest plastic pipe manufacturer, an innovative leader that combines advanced technology with superior customer service to create the industry's most sophisticated and diverse products. Walter Wang is the founder, Chairman and CEO of JM Eagle. Plastpro, founded by CEO Shirley Wang, is the leading manufacturer of fiberglass entry doors. Walter and Shirley Wang are heavily involved in philanthropic initiatives throughout the world through their companies and the Walter and Shirley Wang Foundation.
Tickets On Sale: Tickets are on sale for the 2023 JM Eagle LA Championship exclusively online at www.jmeaglelachampionship.com. Ticket packages include exclusive hospitality and general admissions tickets offering a wide degree of entertainment and access. All 2023 tournament tickets will be digital and will be emailed after purchase. Tickets can be viewed on either a mobile device or printed out where they will be scanned at the main gate.
JM Eagle LA Championship Ticket Options: There are currently four ticket options available for spectators interested in attending the JM Eagle LA Championship:
Daily Grounds:

General admission daily grounds, valid any one day: Thursday-Sunday, April 27-30.

Weekly Grounds:

General admission daily grounds, valid Thursday-Sunday, April 27-30.

$45 (Valid all days Thursday-Sunday)
Sunset Lounge 18th Green Hospitality:

Open-air, semi-private hospitality suite overlooking the 18th green. Includes soft drinks, light snacks, water and cash bar. Valid competition rounds, Thursday-Sunday, April 27-30.
Macbeth Pass 18th Green Hospitality:

Premium hospitality ticket providing access to the Wilshire Country Club clubhouse with complimentary food and beverages. Also provides access to the Sunset Lounge hospitality suite overlooking the 18th green. Weekly and Daily Tickets are available throughout competition days (Thursday, April 27 - Sunday, April 30).

Daily: $375 (Valid any one day)

Weekly: $1,500 (Valid all competition days Thursday-Sunday)
All military personnel (active, retired, reserve and veteran) and first responders (police, fire, EMS) and immediate family (up to four total) will receive complimentary admission to the tournament, compliments of SERVPRO. Tickets will be available at Will Call tournament week by showing proper identification. Military and first responders also will have complimentary access to the SERVPRO Hero Outpost, an exclusive hospitality suite overlooking the 18th green. Complimentary Hero Outpost tickets are available at www.jmeaglelachampionship.com. Children under 18 also will be admitted free into the tournament with a paid adult.
The JM Eagle LA Championship presented by Plastpro takes place at historic Wilshire Country Club in the heart of Hollywood. Wilshire Country Club has a long history hosting professional golf events, and is one of a select few venues to host events on the LPGA Tour, PGA TOUR and PGA TOUR Champions.
For more information about the JM Eagle LA Championship presented by Plastpro, visit www.JMEagleLAChampionship.com, as well as on Twitter, Instagram and Facebook @JMEagleLAChamp.
About JM Eagle
At JM Eagle, we're passionate about creating top-quality plastic pipes that are strong, efficient, and long-lasting. JM Eagle manufactures the widest array of high-grade, high-performance plastic pipes in the industry and offers a steady flow of innovative products and materials for our customers. Our pipes are used in a wide range of industries, including water distribution, wastewater management, plumbing, irrigation, and telecommunications.
As the preeminent plastic pipe manufacturer in the industry, JM Eagle has made significant investments in research and development, combining advanced product technology with state-of-the-art automation. We consistently produce the highest quality plastic pipe in the industry and are committed to ensuring ongoing product excellence. We're proud of our reputation as a trusted and reliable provider of piping solutions as we have the greatest capacity and geographic reach. At JM Eagle, we stand behind our products and offer a 50-year warranty, which is the best in the industry.
At JM Eagle, we're also committed to community responsibility, delivering life's essentials through the most eco-friendly plastic pipe products on the market. We'll continue to manufacture plastic pipes to serve the world's growing needs, offering reliable products and expertise to satisfy customer demand across many industries and applications. For additional information, visit www.jmeagle.com.
About Plastpro
Plastpro is a leading manufacturer of high-quality fiberglass doors and entry systems for residential and commercial properties. Since 1994, we have been committed to providing superior products with the best value, technology, and commitment to our customers. Our doors are designed to offer the beauty and versatility of wood doors, but with the strength and durability of steel doors. Our fiberglass doors are resistant to weather damage, require less maintenance, and offer higher performance ratings than traditional wood and steel doors.
Our doors feature innovative technology such as HydroShield, composite stiles and rails, and composite Polyfiber (PF) frames, as well as a full-length LVL block for added strength and security. With a wide variety of designs, sizes, and styles, we offer something to complement every home or building.
At Plastpro we're not just committed to providing superior products, but also to creating positive changes for our employees, customers and the community. We partner with Habitat for Humanity and other non-profit organizations to donate doors to help create affordable, greenhousing initiatives for low-income families across the nation. We believe that success is only as good as the good it creates, and we're dedicated to making a difference in the world. For additional information about Plastpro Inc., visit www.plastproinc.com.
About Outlyr
Outlyr is a global event management, sponsorship consulting and activation agency that specializes in the development and execution of engaging events experiences. Outlyr believes in the power of relationships – driving connectivity through sports and cultural experiences – to create strategic marketing platforms and high-quality activations, enhancing affinity for its clients and brands. Outlyr manages 10 professional golf tournaments; a number of sporting, hospitality and lifestyle events; and manages the sponsorship portfolio for several blue-chip clients. For additional information on Outlyr, visit www.Outlyr.com
About the LPGA
The LPGA is the world's leading professional golf organization for women, with a goal to change the face of golf by making the sport more accessible and inclusive.
Created in 1950 by 13 Founders, the Association celebrates a diverse and storied history. The LPGA Tour competes across the globe, reaching television audiences in more than 220 countries. The Epson Tour, the LPGA's official qualifying tour, consistently produces a pipeline of talent ready for the world stage. The LPGA also holds a joint-venture collaboration with the Ladies European Tour (LET), increasing playing opportunities for female golfers in Europe. Across the three Tours, the LPGA represents players in more than 60 countries.
Additionally, the LPGA Foundation has empowered and supported girls and women since 1991, most notably through LPGA*USGA Girls Golf, the only national program of its kind, which annually engages with nearly 100,000 girls. The LPGA Amateur Golf Association and LPGA Women's Network provide virtual and in-person connections to female golfers around the world, while LPGA Professionals are educators, business leaders and game-changers dedicated to growing the game of golf for everyone.
Follow the LPGA on its U.S. television home, Golf Channel, online at www.LPGA.com and on its mobile apps. Join the social conversation on Facebook, Twitter, Instagram and YouTube.
-30-
Back to News